6 ways that your work could affect your fertility
Tuesday, March 22, 2022
You've probably heard a lot about the risks of delaying starting a family until after you've become stable within your career because trying for a baby later in life can potentially limit your chances of a successful pregnancy and birth. But you might not realize that the work you do or your workplace conditions themselves could also be affecting your chances of conceiving and giving birth to healthy children. Women's reproductive health and their ability to become pregnant can be affected by chemical, physical, or other workplace hazards. Your exposure to something hazardous at work does not mean that you will have these health problems. Though studies have found some workplace hazards can affect the reproductive system in women, these effects do not necessarily occur in every worker.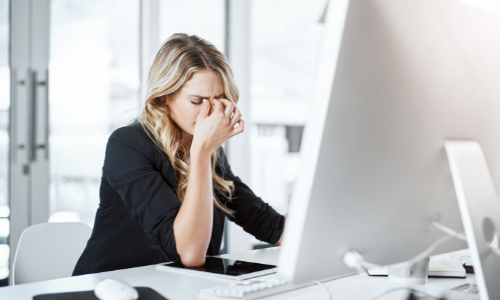 There are at least six ways that your work could affect your fertility:
• Due to work, women are subjected to increased levels of mental stress. The effects of stress on reproductive hormones can lower your chances of getting pregnant.
• Working women often tend to over-work and put their bodies under even more stress (both physical and mental), and the undue stress leads to hormonal changes in women and leads to a decline in the levels of estrogen (essential for reproduction) and an increase in the levels of androgens (male hormones).
• Women who lift or move heavy objects at work are even more affected. Too much lifting, bending, or standing can put you at risk for fertility challenges. The number of antral follicles and the number of eggs are found to be lower in women subjected to physical stress at work.
• Working night shifts or rotating shifts puts women at a higher risk of infertility and lower egg count, which can affect their fertility.
• Exposure to chemicals can lower fertility and exposure to radiation can damage your reproductive system and your eggs.
It's hard to say exactly how many chemicals women are exposed to daily.
Some of the main hazardous chemicals affecting fertility include:
The lead and lead compounds in paint, piping, and ceramics.
Pesticides in farming, forestry, or veterinary work.
Carbon disulfide (CS2) in factories that make rubber and cellophane.
Polychlorinated biphenyls (PCBs) in electrical equipment, lubricants, coolants, and for other industrial purposes.
Epoxies and resins for plastic manufacturing, in nail salons, and for dentistry.
Organic solvents like those used in paint thinner, nail polish remover, perfumes, and industrial disinfectants used in healthcare settings and nail salons.
Working mothers often experience additional stress in managing family and professional lives, which may lead to secondary infertility (inability to conceive a second time). Besides, working women also face other secondary problems like improper nutrition and are more prone to follow a sedentary lifestyle. This can lead to obesity and weight gain which further compounds the problem of infertility.
If you are concerned about your health, or if you and your partner are pregnant or trying to become pregnant, tell your doctor: What kind of work you do and what kinds of hazards are in your workplace (e.g., chemicals, noise, heat, working night shifts, lifting heavy objects). And ask your doctor about egg freezing which gives you the ability to sequence your work and personal lives if you so choose. Also, egg freezing will enable the fertility specialist to retrieve healthy eggs preserving your fertility. Once the eggs are frozen, they can be used in the future.
---